Posted on December 7, 2008
Filed Under Family, SLA23Things, Web2.0 | 1 Comment
I've been using Bloglines for years to follow (when I find time) news feeds, primarily those in information science, health policy and personal/professional productivity. I also follow some boxer feeds and art feeds.

Checking out the Quick Pick Subscriptions, I see there are quite a few that I'm already subscribed to, and others that I'll check out another time (e.g., Birding News Feed, Art Knowledge News). The Boglines Top 1000 is interesting, especially the graph showing gains and declines in readership of each in the list. Jenny Levine's blog,  The Shifted Librarian, is in seventh place and holding steady.
I've checked out Google Reader, but don't like the look and feel much. Maybe it's a coziness thing – I'm comfortable where I am with Bloglines – but I think the Google interface just takes up too much real estate on the screen. Another SLA 23 Things participant had a good point about using Google Reader since she uses many of Google's other applications. For now, though, I'll stick with Bloglines.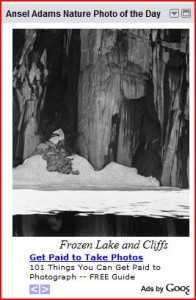 I poked around iGoogle and did some customizing:
Edited my Weather settings to set temperatures to display in Celsius.
Added a few gadgets: Ansel Adams Nature Photo of the Day, Gmail, Top Stories, How to of the Day (today's is "How to Stretch a Canvas"). [I need to figure out how to align photos in Wordpress.]
I personalized my MyYahoo account a bit more:
Added Edmonton to the Weather Forecast box so I have up-to-date when I talk to my mom and brothers. For fun, I also added St. Louis, which is where my sister and her family live.
Moved the "Note to Self" box to the top of the right column.
Added the Facebook and Flickr applications.
Deleted Scoreboard and Stock Portfolios (that's too depressing right now!).
Changed my page appearance, changing the theme to "The Color Purple" (yummy colour), but decided in the end I like Forest better. The trees at the top are wonderful in their fogginess and the dark green makes my Flickr photos pop.
Whether I actually use iGoogle and/or MyYahoo in the future remains to be seen.
While checking out Netvibes, I discovered my ancient account no longer exists;  I couldn't log in, at any rate. I created a new one, and although Netvibes knows I live in Canada, it wasn't smart enough to determine I  live on the west coast andwant Vancouver weather on my page. I do like the Flickr Most Interesting Photos box that is already on the page, though.
Another suggestion for Week 6 was to check out Pageflakes. I had a quick look at this and decided not to spend the time setting it up. Interesting and possibly useful, but I have only so much time to devote to personalizing my Internet experience. All of these tools do essentially the same thing, with minor variations. Best to figure out which ONE I like and work with it – if any at all.
Comments