Posted on December 9, 2008
Filed Under SLA23Things, Web2.0 | 1 Comment
Week 6 is a "play" week to explore some Web 2.0 applications of potential interest.
Avatars and online image generators:
First task this week was to create an avatar and/or work with an online image creator.
Meez – an online avatar creator and game site. I didn't get very far with it. I downloaded and installed Java (still setting up my new computer), and finally got Meez working. Since I had to sign up to save my avatar, I decided to bail at that point.
ImageChef – an online image creator. I wrote in the sand and saved the image below, then shared it on Facebook.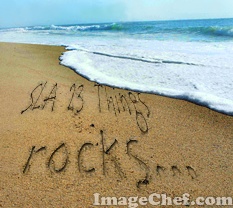 Yahoo! Avatars – online avatar creator. For this site, I had to download and install the latest version of Macromedia Flash Player. Though the Flash Player test at the Adobe site indicates I have it installed properly, Yahoo Avatars keeps telling me I need to install it. On to the next site.
Big Huge Labs – home of Flicker Toys, an online image manipulation site. I created a move poster from one of my images.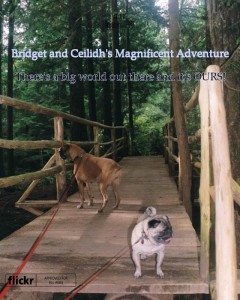 Customer Sign Generator – this image generator site was down when I went to it, but lead me to Foto Trix. I have a sense of what it can do, so decided to move on to other things for this week.
Probably the most useful thing about this last exercise was my downloading and installing the various plugins that I hadn't gotten around to yet.
I created a Second Life avatar some time ago and now need to install SL software on this laptop in preparation for tomorrow's AIIP webinar on virtual worlds.
LibraryThing:
This week we're also to look at LibraryThing. Since I'd already started my catalogue on LibraryThing a while ago, I checked out Shelfari and GuruLib. I use WeRead in Facebook and noticed today that this app is having problems with Firefox 3. The appi folks are suggesting we try using a different browser – I'm hoping they sort this out quickly.
Not surprisingly, the group with the largest number of members is Librarians who LibraryThing (5446 members), more than twice as many than the next highest number group, Science Fiction Fans (2697 members).
I've suggested to several small non-profit organizations that they check out LibraryThing as a web-accessible catalogue for their constituents. I'm not sure if any of them have taken this direction, but it seems a useful solution for groups with limited funds. There's a list of libraries that use LibraryThing for Libraries for specific applications such as reviews and catologue enhancement. Libraries thinking about using LibraryThing for Libraries can find information about it here.
A really nifty function in LibraryThing is the Tag Mirror, which shows the tags that other LibraryThing users have applied to books in your collection in their own collections. Read the LibraryThing blog post "Tag Mirror: See your books the way others do" for more information.
Rollyo:
Rollyo is a site where users can create their own customized searches by creating Searchrolls comprising websites they visit and search over and over. I signed up and will be creating searchrolls for topics such as dog-related searches, art-related searches, and health research-related searches. These I'll create the next time I do these searches, along with any others I think I'll be repeating. One initial thought I have, before actually testing this, is whether I'll be able to create any useful Searchrolls for my work since so many of the sites I use are deep web sites with different search protocols.
Comments