Posted on December 13, 2008
Filed Under SLA23Things, Web2.0 | 1 Comment
I created a sample wiki to complete this week's tasks.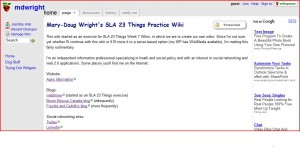 I took a look at a few options for free wiki hosting. I decided I wanted to host it at a wiki site rather than using server-based software as a first go-round. I checked out a few options:
WikiSpaces – I took the online video tour starting here. I learned:
You can use an RRS feed or news reader to keep track of changes to the wiki (useful if it's a collaborative effort).
You can "star" a page to remind you that you want to make changes to it.
MediaWiki – This is a server-based option. My ISP provides MediaWiki, so I may take a look at this more carefully in the future.
I decided to create a wiki in Wikispaces rather than within my SLA membership space (this I'll do later) or using Wikimedia through my ISP, since time is running out to meet the December 15th SLA 23 Things deadline. I figure I can get a feel for wiki principles without the steeper learning curve of all the technical details I'll need to learn for the other options.
Since I wanted to use the free version of Wikispaces, I couldn't create a Private wiki, which is viewable and editable by wiki members only. I opted for the Protected option, which means it's viewable by anyone, but editable by wiki members only. I created a couple of pages, starting with the wiki's homepage, which gives a bit of information about me (hmmm) and introduces the wiki (Mary-Doug Wright's SLA 23 Things Practice Wiki). So, I:
uploaded photos to the Dog Stuff page.
embedded several widgets (video – a Youtube video; RSS reader – a CBC podcast feed) on the Trying Out Widgets page
renamed a page (changed Gadgets to Widgets)
changed the page title paragraph style, font and colour: Heading 1, Comic Sans MS, #0a0e80
changed section headings paragraph style, font and colour: Heading 2, Verdana
under Manage Wiki, changed the Look and Feel of the wiki to the theme to "Bubble" from the default "Original"
checked out other functions under Manage Wiki and decided not to make further changes
discovered I can't remove the ads since I'm using a free account
changed notifications using Tools under Manage Wiki to send an email to me about any changes made to the wiki (but since I'm the only author, this was just for the sake of the exercise)
looked at the "history" tab to see the changes I'd made over the last two days
I decided not to spend any more time on this exercise as I don't think I'll continue with Wikispaces. I discovered pbwiki after I'd started the wiki in Wikispaces and I think it might serve my purposes better. I watched a video on using pbwiki for project management. pbwiki is free for 1-3 users, perfect for small group projects. It may well be a better option for personal project management, since the free accounts can be made private, unlike Wikispace.
Comments