Posted on June 6, 2009
Filed Under Dogs | Leave a Comment
Some great news for boxer owners and lovers. A veterinary cardiologist at Washington State University has identified a defective gene responsible for one of the heart diseases that plague the boxer breed according to an April 27, 2009 press release from the university. Boxer cardiomyopathy, or arrhythmogenic right ventricular cardiomyopathy (ARVC), has long been know to have a hereditary component and is one of the disorders responsible for the short average life span of the breed.
Our first boxer, Bridget, suffered from a severe arrhythmia most of her life – though apparently it wasn't the typical boxer cardiomyopathy. After a series of syncopic episodes (fainting spells) – they were very scary – a holter monitor test identified the problem. Bridget survived another 3 or 4 years with the help of Sotalol, a drug used to treat arrhythmias. Though we thought this condition would lead to her death, she died with the arrhythmia, not from it. It was cancer – another disease that beleaguers boxers – that took her in the end.
The good news about this discovery is that breeders will be able to test their boxers for the faulty gene and avoid using those that carry the gene in their breeding programs. Over time, it might lead to an end to this affliction in boxers. A simple cheek swab test should be available some time this summer, according to the press release.
Posted on May 28, 2009
Filed Under Dogs | Leave a Comment
Background
See references at end for more information.
A Twitter post yesterday by @sarchet62 ("Pills for your pets OMG http://is.gd/HuJH") inspired me to finish a blog post I started two years ago describing our experience with Sassy, our rescue boxer, and her severe separation anxiety. My non-professional writing efforts often bog down, ending up in my drafts file never to be revisited. I dusted this one off today and updated it to reflect time passed and add some references. Sassy died in 2006 – I miss her to this day – so writing about her keeps her alive in my memory.
Back in January 2007, a rescue boxer adopter asked a question on the Boxer Rescue Canada (BRC) blog about dealing with severe separation anxiety. Several people offered suggestions, asking for more information about the boxer in question, and as one of the responders noted, this can really be a difficult nut to crack. When we adopted our first rescue boxer, Sassy (who was our second boxer), we thought we were prepared for any issues that might come up as she settled in with us and we with her. We'd done a lot of reading, and I'm a member of the Boxer Mailing List (BML), a listserve for boxer lovers where people discuss all things boxer. Issues involving rescue boxers is a hot topic on the list. I'd been reading messages on BML about rescue boxers since we decided we'd like to adopt an adult boxer after our first boxer, Bridget, died in 2002. Not in our wildest imaginations did we think we'd be dealing with the kind of extreme separation anxiety Sassy displayed. It was a lengthy road helping her with it, while trying to maintain our own sanity.
Realization – separation anxiety raises its ugly head
We discovered very quickly, the second day we had Sassy, when I headed out for a 10-15 minute walk around the block with our other dog, Ceilidh the pug, that there might be a problem. About half a block from home, I heard the most high pitched and loud frantic barking, which got louder and more urgent as we approached home. Our poor Sassy, it turned out, was terrified to have been left alone! Apart from wanting to alleviate Sassy's distress, we live in a townhouse-style condominium and share walls with two neighbours and our ceiling with another – so we needed to find a solution to this and quickly.
I spent the next day doing Internet research and posting to BML. Many, many people emailed with their suggestions and encouragement, saying it would, eventually, get better. And it did – but not for many months – and some aspects took several years.
Crating Sassy wasn't an option. She had spent the first four years of her life in a 6 x 6 foot pen in a backyard with a Rottweiler. The rescue worker we adopted her from – the wonderful now-retired Tracy Hon of Chico Boxer Rescue – had told us that Sassy was really claustrophobic and this turned out to be only too true. She was trustworthy loose in the house from the beginning, gentle with Ceilidh and not prone to destructive activities, but we just couldn't go out and leave her, even with Ceilidh as company.
Thus began many months of desensitization work. When I look back on that time, about six months of solid work and being trapped by this situation, I wonder sometimes how we managed to get through it with our sanity preserved. The bright and very shiny star in all of it was Sassy herself. She was such a sweet girl after our wild Bridget – she made all the hard work worth-while. She had us laughing out loud with her antics and her wonderful sense of the absurd.

Tactics – the long, hard road to a solution
We count ourselves lucky because both of us had very flexible work schedules, which accommodated Sassy's need to have at least one of us around most of the time. I worked in my home office two to three days a week at that time – and on the days I had to go in to a client's office, Shelley would arrange to work at home or take Sassy to work with her. During the day, we would take breaks from work and do outings, gradually increasing the time every few days by 5 minutes at first, then 10, and so on. We set up a tape recorder so we could get a sense of how Sassy was doing – we didn't want to be too close by, just standing outside the door or the hedge, because these uncanny creatures can sense our proximity. We thought we were doing pretty well until we reached the 30 minute mark after weeks of short, incremental increases in our absence. For some reason, Sassy couldn't get beyond this mark without starting the frantic barking again.
Following the wonderful advice from BML members and rescuer workers at BRC, we began with really tiny baby steps. We spent a few days preparing to go out, without actually leaving. We'd put on our coats, pick up our keys, and set the alarm system – then sit down on the couch for a few minutes before doing it all again in reverse. After a few days of that, we'd get ready to go out, set the alarm, step outside, lock the door, and then come right back in. (It had to be within 30 seconds at first, as that's when the barking would start.) Over weeks, we worked up in this fashion to 10 minute outings, stuffing a large Kong with cookies and peanut butter to occupy her as we went out the door. Ceilidh, during all this, would get a plate with peanut butter or yoghurt smeared on it down at the end of the hallway (she's always barked furiously for a minute or two whenever we go out the door).
Calm comings and goings
Along with the desensitization of short, then longer outings, key to the process was to keep comings and goings as calm as possible: a quiet "watch the house" when we left was instituted; a quiet greeting on returning – difficult when Sassy was turning inside out – and even ignoring her for the first 5 or so minutes replaced the usual happy greetings.
Reaching for pills…
Pills aren't the first solution I reach for, but they have their place at times.
Getting desperate since we couldn't seem to break the 30 minute mark, we began to look at other options. We tried a citronella "no-bark" collar to no effect – other than to provide us with a lovely lemony scent when we came home. After weeks of this, we finally went to our vet about it, and she prescribed a drug, since we weren't having success any other way (we'd been at it for about 6 weeks at that point, and still couldn't go out for more than 30 minutes. We hadn't wanted to go the drug route, but there it was –Sassy was prescribed Clomicalm (clomipramine).
Once Sassy was taking the Clomicalm, we continued the incremental additions of 5-10 minutes, going slowly, slowly, upping our absence to longer and longer each week. We considered the drug therapy to be an interim step, something we would discontinue as soon as we could. By the time we got to the 3 hour mark (the local pub and coffee shops would see us every day, working away on our laptops, or catching up on work-related reading), we knew we were well on our way to resolving Sassy's problem. It would have been very difficult if we hadn't for the days when we had to be gone for hours at a time,
A humourous note – hiring a babysitter
Although Sassy eventually could be left for a full work day, for those days when we both had commitments on the same day, she took several more years to adjust to evening absences. For some reason, she understood we'd come home again if we gone during the day, but she just couldn't generalize that to evening outings. On the rare occasions when we both went out in the evening (hmmm, we happily lead rather quiet lives these days), we ended up hiring one of our neighbourhood kid friends who would come over and spend time with the dogs. It worked well – Sassy was happy and our friend would earn a few dollars, trading his usual herd of toddlers for a canine mini-pack instead. It took several years before we could leave Sassy at home in the evenings without a babysitter.
Not without a cost – possible adverse effects
Just at the point when we were planning to wean her off the Clomicalm to see how she'd do drug-free, Sassy had a grand mal seizure. It was frightening to see, as I'd never known anyone who had seizures. Shelley, though, knew just what to do, having grown up with a younger brother who had seizures regularly. She cradled Sassy's head until the thrashing subsided and just let it run its course. We couldn't help but wonder if Clomicalm was the culprit, and our vet (a boxer breeder herself) thought it was a possibility. As with many psychotropic drugs, withdrawal had to be gradual. Over a period of several weeks, we decreased her dosage bit by bit until Sassy was "off the meds." As far as we know, Sassy never had another seizure – she may have had one when we weren't around, but there were no obvious signs that she had.
Success
I remember an email from BRC's Marta Nettelfield early on in our long road to getting a handle on the problem. She was very encouraging, saying it was early days – and she was right. We were glad to finally be free to come and go, knowing that Sassy's separation anxiety was under control as long as she had her treat-filled Kong to entertain her as we slipped out the door.
References
Behavior modification best medicine in treating dogs' separation anxiety [news release from Kansas State University]. (2005). Available: http://www.k-state.edu/media/WEB/News/NewsReleases/listanxiety419.html.
Humane Society of the United States. (2002). Separation anxiety. Available: http://www.hsus.org/pets/pet_care/our_pets_for_life_program/dog_behavior_tip_sheets/separation_anxiety.html.
Humane Society of the United States. (2003). Solving barking problems. (Behavior series). Available: http://vetmed.illinois.edu/behavior/pdf/Barking%20Problems.pdf.
Segelken, Roger. (1996). Study: 'Nuisance-barking' dogs respond best to citronella spray collars. Cornell chronicle. Available: http://www.news.cornell.edu/chronicle/96/6.6.96/barking.html.
Seksel, K., Lindeman, M.J. (2001). Use of clomipramine in treatment of obsessive-compulsive disorder, separation anxiety and noise phobia in dogs: a preliminary, clinical study. Australian Veterinary Journal, 79(4), p. 252-256. PubMed abstract: http://www.ncbi.nlm.nih.gov/pubmed/11349411.
UC Davis Center for Companion Animal Health. Companion Animal Behavior Program. (2003?). Separation anxiety in dogs: bibliographies, websites & resources. Available: http://www.vetmed.ucdavis.edu/CCAB/separation.html.
Posted on May 28, 2009
Filed Under Dogs | Leave a Comment
I wrote a short piece on dogs and the summer heat for Boxer Rescue Canada's blog a few weeks ago. You can read it here.
Posted on January 1, 2009
Filed Under Information Science, Social Networking, Web2.0 | 3 Comments

My colleague, Dean Giustini, wrote an interesting blog post yesterday, asking the question "why aren't more Canadian librarians on Twitter?" I wonder this myself. I find Twitter to be a useful tool to share some of what I'm reading and a bit about what I'm thinking, to connect with current colleagues and friends and to meet new ones, and in general to keep abreast of new things and thoughts about technology and social networking. I follow tweeple from the library/information science world, online education world, and other worlds of interest (art, dogs, creativity, news).
Like Dean, I talk about Twitter with friends, and usually get the response that it seems like a waste of time and effort. I'm surprised, too, that Dean's health information and librarianship students were so unenthusiastic about it. The students I've met are young and I would have thought they'd adopt this web 2.0 application with gusto.
To Dean's list of Canadian library/librarian tweeple, I would add several who work in non-traditional settings, but with a focus on health. Tamara Durec is an independent information professional with a pharmacy background and Shelley Hourston is a program director in a disability advocacy organization, as well as a creativity coach. Other Canadian librarians/information professionals include Stephen Abram and Tim Tripp. I know of numerous others who have Twitter accounts, but don't post. Perhaps Dean and I can convince them to rev up in this new year. (And thanks, Dean, for the heads up about the Vancouver Public Library Twitter feed; it's new to me.)
Posted on December 17, 2008
Filed Under SLA23Things, Web2.0 | Leave a Comment
While doing the final week of SLA 23 Things, I was puzzled that the video I added wasn't embedded in my post, but rather was hotlinked in the sentence about it. I had expected when I clicked on the "add media" icon in my Wordpress dashboard that it would be embedded (i.e., there would be a video box to click on to start the video as I've seen on others' blog sites). During the night as I lay awake – I'm an insomniac and do a lot of problem-solving in the dead of night – it occured to me that I had used the URL to the video rather than the "embed" code from Youtube. I watched a video on Youtube to find out how to do it. Basically, you have to go to user options and unselect "Use the visual editor when writing." After working with posts with videos, change the settings back to allow visual editor. Below is the instructional video, as well as the video of Bounce the boxer competing in Rally O.
How to embed YouTube Video in Wordpress:

Bounce competing in Rally O at AKC:

Posted on December 14, 2008
Filed Under SLA23Things, Social Networking, Web2.0 | 2 Comments
Video sharing sites
Youtube – I have favourite Youtube videos categoried as music (by artist for some of my favourite musicians), dogs (by activity for some), humour, and more). I've been using Youtube mostly for leisure activities, but lately have been finding news and instructional videos to be very useful. I haven't yet uploaded any of my own videos. I have a few I've taken with my camera and more recently with an inexpensive camcorder, but I doubt they'd be of interest to anyone but my family (think videos of my dogs…).
I haven't spent much time exploring other video sites, though I find I'm taken to these at times when I'm viewing a video I've found during a search, or when I get emails from friends with links to videos. Sites in this week's exercise to check out in the future (since if I start looking now, I'll wind up frittering away a few hours):
VideoJug – lots of "how to" videos from site users.
Metacafe – a site which pays creators once the number of views of popular videos reach and exceed a critical mass
Meta search engines for videos include Metatube, searchforvideo, and blinx. I tested all of them using "rally obedience" or "rally obedience" (a dog sport). Adding in terms for boxer or dog doesn't help with the search. I've been looking for examples of boxers doing Rally O, with little success, since my boxer, Freckle, and I have just started competing. I did find a Boerboel (a mastiff-family relative of the boxer) doing a fun match, though, using blinx: Sebastion the Boerbol to add to my small collection. One of a boxer I already had saved in my Youtube playlist is Bounce competing in Rally O at AKC.
Podcast search tools
I checked out the podcast services which won Web 2.0 Awards as suggested in this week's exercises.
Odeo – searches for both podcasts and videos. Here, I searched for and found a long list of CBC podcasts. I also searched for dog treats and found one from Good Dog Podcast on cutting pet care costs, which is an interview with a veterinarian. I did a search on "author reading" and found two items, one being an 8-episode reading of "And She Was." There wasn't any information on this publication, but a quick Google search led me to Cindy Dyson's website, which lists the novel, which is set in Alaska. I also browsed the Science, which has 201 channels and is further divided into Medicine, Natural, and Social.
PodShow – searches for both podcasts and videos.  The search function wasn't working when I tried it; an error message offered up choices from the hosts from 4 channels: meviotech, meviowomen, meviomen and meviomusic. Even though I clicked on the Audio tab, much of the page was taken up by videos offerings – navigation isn't very sophisticated. Clicking through to various channels (Going Green, Hot Gadgets) was exceeding slow and accompanied by the irritating sound of a music video from what appeared to be the Xtreme Sports channel. Short of turning down or shutting off the volume on my computer, there was no peaceful way to navigate this site.
PodOmatic – searches for both podcasts and videos. Searches can be limited to either or both media types. Podcasts play in a pop-up window. Searching for CBC found only 4 items. A featured site when I checked this site was DJ Floyed's music stream, featuring some wonderful digital music. Also featured on the homepage is Chin Stroker VS Punter, subtitled Irreverent and Irrelevent Film talk out of England. These are lengthy discussions about movies (not necessarily current ones – examples are Dark Knight, Citizen Kane, This Is England). Navigation on this site isn't very intuitive.
I browsed the Technology>Gadgets of each of the above podcast search sites as a test of the channels or categories available (simply Hot Gadgets in PodShow). For ease of navigation and searching, I recommend Odeo over the other two. With the exception of Odeo, these sites are lacking in description of specific podcasts, so it was necessary to listen to a bit of each to get a sense of it. It seems you need to know about the podcaster or the series from other sources before you head to these sites to do your searching. An example of the description available through Odeo is The Tech Night Owl Live program.
One of the uses I can see for podcast search engines is finding audio files in other languages to practice listening skills and hear how native speakers use the language and what they sound like.
NetLibrary: online eBooks, eAudiobooks and eJournals
I watched the demo videos at NetLibrary to get a sense of the service, which I can access through a subscription at Vancouver Public Libary through the electronic databases menu. This requires users to have a VPL library card number. I created a free account through the NetLibrary interface. I discovered that the VPL subscription to NetLibary includes only eBooks, not eAudiobooks as well. There doesn't appear to be a way to download the eBooks for reading later or transferring to an iPod or MP3 player. I'll have to contact VPL to find out if there's a way to do this.
Thoughts on SLA 23 Things
This week marks the end of SLA 23 Things, but not the end of my exploration of web 2.0 applications. It's been a great program for me personally. I've learned much during my work on the program – and most of this work was more like play. My favourite applications are the image and photo tools and sharing sites. I also enjoyed getting a blog up and running, and am hoping I'll continue it. I do want to change the template I'm using – but that's for down the road. I'm also looking forward to creating a personal wiki as a project management tool for my business and possibly creating ones for projects with other consultants. I already have friends and colleagues asking me about various tools I use in my work and play, and now I have even more to show them. Finally, since I didn't fully explore each and every application suggested in SLA 23 Things, I still have more magic to discover myself!
Posted on December 14, 2008
Filed Under SLA23Things, Social Networking, Web2.0 | Leave a Comment
Online productivity tools
As part of this week's tasks, I read the About.com article Top Ten Productivity Web Sites. Of these 10 tools, I already use:
TinyURL – I use this site when I'm not on my own computer. I have the FireFox add-on TinyURL Creator on my own machine.
Gmail – I forward all of my email from other accounts to Gmail. One of the things I use it for (often) is searching old emails and also for subject searching (all the listserves I belong to).
Bloglines – I use this for all my RSS/news feeds.
Google Docs and Spreadsheets – I use this primarily for storing (non-sensitive) documents I might want to access when I don't have my own computer with me.
Of the others mentioned, I've considered installing Google Desktop but worry a bit about security issues. Several others that look interesting include:
MyStickies – I'm intrigued by the ability to leave small notes on websites to point out the important spots or text passages. They are planning to add to ability to share notes with other people, something that might come in handy when pointing out web resources to friends and family.
Remember the Milk – a "to do" list and reminder service. It can be integrated with Gmail or added as a Firefox extension.
(I dislike the fact that About.com doesn't date their articles. I've noticed this in the past – it's frustrating not to have a sense of the currency of the information.)
I subscribe to the Lifehacker blog and read it when I have time to digest it. It's a great site with lots of technology and productivity discussion. Looking at the blog site for this week's tasks, I found a "cool tool" that looks great – a mechanical pencil whose lead rotates slowly to prevent flattening, which leads to broader lines than wanted. I happen to really love mechanical pencils and do most of my writing and note-taking with one.
The Getting Things Done video on YouTube sounds as if it would be a worthwhile watch (45 minutes). I own the book, however, so unless I find an hour with nothing to do, and that's pretty rare, I won't be viewing it. The GTD bookmarks on Delicious are worth a second look, though.
Reviewing Lifehacker's 2007 Guide to Free Software and Webbapps will take some time. It was published Dec 17, so perhaps I'll wait until the 2008 edition comes out (assuming it's an annual post).
Other applications suggested in this week's tasks (focussing on free applications only):
Productivity tools I've tried:
Google Docs and spreadsheets – I've used these for group projects, but in general, it hasn't been a success. Though I've uploaded documents for collaboration, the other people in the group haven't gotten onboard. The only person using the collaborative functions was me!
iGoogle and MyYahoo – I've had these set up for years, but haven't done much with them. I did more customization and blogged about these during Week 5 of SLA 23 Things.
CutePDF – a great tool that lets you create PDF documents as one of your print options from within your applications (I use it with MS Word and Excel).
PDF converter – a web-based application that allows conversion from a variety of applications. There's a script you can add to your own website that lets visitors print pages with a single click.
Exploration of a site from the Web 2.0 awards list
This task involved looking at seomoz's 174 Web 2.0 Sites in 41 Categories list. This site has a cornucopia of both fun and work-related sites and applications – lots to explore in the future.
Categories I quickly checked:
Health – hoping to find some interesting new sites to use in my work. The winners focus on consumer health, though, so they aren't very useful to my professional life. All focus on community building among people looking for health information or sharing their stories on specific conditions or treatments.
Hosted Wikis – curious to see which were included, I see that both pbwiki and wikispaces have won awards (these I looked at during Week 7 of SLA 23 Things). The other winner was wetpaint – another free wiki option I might test drive in the future.
Social News – Smaller and Niche Sites – NowPublic is a news site, with the tagline "Crowd Powered Media" – worth a close look later.
Visual Arts – This is one of my main interests in life, so I checked one of these as my site to explore in more detail. Two of the 3 award winners deal with the visual representation of numeric data (Swivel preview and visualcomplexity). Though I don't do much work with primary data these days, I love to see the creative way other researchers represent their findings visually.
The One Million Masterpiece
This site won an honourable mention. Its tagline reads "Officially the World's largest collaborative arts project and online drawing community." The artistic vision of this collaborative art site summarized is:
to celebrate individual creativity through collaboration
to test the limits of artistic collaboration on a massive scale
to reconnect people with art
As someone who has felt the synergistic effects of working with other artists (on individual pieces, rather than a colloboration, during life drawing sessions), I find it really interesting that this experiment is taking place. I know of artists who do work collaboratively and they love the experience. The composite picture being created can be zoomed in and out and is clickable so you can see larger versions and the details of the artists who created specific tiles in it. Though I haven't joined the community yet, I probably will – and I'll be sending the URL to friends, for sure.
TheBroth is another collaborative art site that won an honourable mention – an additional site to explore in the future.
Posted on December 13, 2008
Filed Under SLA23Things, Web2.0 | 1 Comment
I created a sample wiki to complete this week's tasks.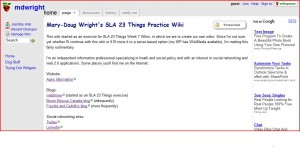 I took a look at a few options for free wiki hosting. I decided I wanted to host it at a wiki site rather than using server-based software as a first go-round. I checked out a few options:
WikiSpaces – I took the online video tour starting here. I learned:
You can use an RRS feed or news reader to keep track of changes to the wiki (useful if it's a collaborative effort).
You can "star" a page to remind you that you want to make changes to it.
MediaWiki – This is a server-based option. My ISP provides MediaWiki, so I may take a look at this more carefully in the future.
I decided to create a wiki in Wikispaces rather than within my SLA membership space (this I'll do later) or using Wikimedia through my ISP, since time is running out to meet the December 15th SLA 23 Things deadline. I figure I can get a feel for wiki principles without the steeper learning curve of all the technical details I'll need to learn for the other options.
Since I wanted to use the free version of Wikispaces, I couldn't create a Private wiki, which is viewable and editable by wiki members only. I opted for the Protected option, which means it's viewable by anyone, but editable by wiki members only. I created a couple of pages, starting with the wiki's homepage, which gives a bit of information about me (hmmm) and introduces the wiki (Mary-Doug Wright's SLA 23 Things Practice Wiki). So, I:
uploaded photos to the Dog Stuff page.
embedded several widgets (video – a Youtube video; RSS reader – a CBC podcast feed) on the Trying Out Widgets page
renamed a page (changed Gadgets to Widgets)
changed the page title paragraph style, font and colour: Heading 1, Comic Sans MS, #0a0e80
changed section headings paragraph style, font and colour: Heading 2, Verdana
under Manage Wiki, changed the Look and Feel of the wiki to the theme to "Bubble" from the default "Original"
checked out other functions under Manage Wiki and decided not to make further changes
discovered I can't remove the ads since I'm using a free account
changed notifications using Tools under Manage Wiki to send an email to me about any changes made to the wiki (but since I'm the only author, this was just for the sake of the exercise)
looked at the "history" tab to see the changes I'd made over the last two days
I decided not to spend any more time on this exercise as I don't think I'll continue with Wikispaces. I discovered pbwiki after I'd started the wiki in Wikispaces and I think it might serve my purposes better. I watched a video on using pbwiki for project management. pbwiki is free for 1-3 users, perfect for small group projects. It may well be a better option for personal project management, since the free accounts can be made private, unlike Wikispace.
Posted on December 12, 2008
Filed Under SLA23Things, Social Networking, Web2.0 | 3 Comments
I admit it – this is a Web 2.0 application that I have next to no experience with, other than using a few for information-gathering. I can definitely see the use of wikis in collaborative environments: education, businesses, even social networking groups.
It wasn't until after I'd viewed the wonderful short video "Wikis in Plain English" that I found myself quite excited about wiki possibilities for my work as an independent info pro. I don't do many projects that require group input, other than report generation. Generally, we're an ad hoc group of consultants and researchers brought together for a specific project. Each new project is a different topic, not requiring an ongoing collaborative effort. I'm thinking the next time I have a receptive group working on a project with me, I'll create a wiki and see if it's adopted as a useful productivity tool.
Several uses of wikis in non-classroom environments that intrigued me are project management and email reduction. More information about wiki use can be found on the Future Changes blog.
I wonder, after looking at the suggested resources for this week, if a private wiki with various apps and widgets could make my life easier. As an example, I used Google maps a while ago to check on where a Rally Obedience trial was being held just outside of Vancouver. If there's another trial there in a year or two, I'll have to look it up again – but if I had a personal wiki, I could save the file there and not have to do the search again. I could add a calendar, task list, etc. But – I'm not quite convinced yet.
A few items of interest to health librarians:
Of the wikis mentioned in the SLA's 23 Things page, the ones I found most interesting include:
WikiHow – a wiki of "how tos" which includes such topics as removing red wine stains, overcoming procrastination with self talk, descaling a kettle, and suppressing the gag reflex
Art Tutorials Wiki – the Anatomy & People Linkshttp://artwiki.wikidot.com/ page leads to many examples of anime, manga and fine art drawing instruction
I also found the wikipatterns.com site interesting to explore. This site talks about wiki development, use and adoption – ways to make a wiki successful. They provide a "how to" starting at "Grassroots is best."
Lastly, several wiki directories to explore further:
List of wikis – a wikipedia entry listing a small number of notable wikis (worth further exploration)
Wiki index – a searchable directory in wiki format
Next step for SLA 23 Things is to create a wiki.
Posted on December 11, 2008
Filed Under SLA23Things, Web2.0 | 1 Comment
identi.ca won't accept the file I use for my profile photo, saying it's too big. Not helpfully, there isn't any indication about what the size limit is. Rather than opening Photoshop Elements 6, I decided to see what I could use online (in the spirit of exploring Web 2.0 further).
Out of curiosity, I searched Google (photos resizing online) and found many options (1,370,000 hits – and no, I didn't bother narrowing it). Then, I checked flickr to see if I could do it through my account. Sure enough, flickr has a partnership with Seattle-based Picnik, which offers web-based photo editing. After several false starts (Firefox has been crashing a lot over the last several days), I used IE and in no time flat, had resized my profile photo by 50 per cent, saved it to my hard drive, and uploaded it successfully to my identi.ca profile. I don't see any real difference between the original and the resized image when I compare the thumbnails on several of my social networking profiles, but at the size below, I can see some loss of definition in shadows and highlights.
« go back
—
keep looking »