Posted on December 9, 2008
Filed Under SLA23Things, Web2.0 | 1 Comment
Week 6 is a "play" week to explore some Web 2.0 applications of potential interest.
Avatars and online image generators:
First task this week was to create an avatar and/or work with an online image creator.
Meez – an online avatar creator and game site. I didn't get very far with it. I downloaded and installed Java (still setting up my new computer), and finally got Meez working. Since I had to sign up to save my avatar, I decided to bail at that point.
ImageChef – an online image creator. I wrote in the sand and saved the image below, then shared it on Facebook.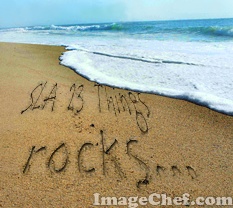 Yahoo! Avatars – online avatar creator. For this site, I had to download and install the latest version of Macromedia Flash Player. Though the Flash Player test at the Adobe site indicates I have it installed properly, Yahoo Avatars keeps telling me I need to install it. On to the next site.
Big Huge Labs – home of Flicker Toys, an online image manipulation site. I created a move poster from one of my images.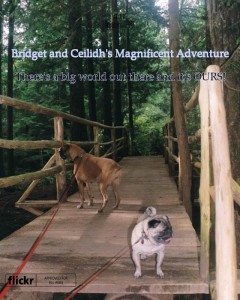 Customer Sign Generator – this image generator site was down when I went to it, but lead me to Foto Trix. I have a sense of what it can do, so decided to move on to other things for this week.
Probably the most useful thing about this last exercise was my downloading and installing the various plugins that I hadn't gotten around to yet.
I created a Second Life avatar some time ago and now need to install SL software on this laptop in preparation for tomorrow's AIIP webinar on virtual worlds.
LibraryThing:
This week we're also to look at LibraryThing. Since I'd already started my catalogue on LibraryThing a while ago, I checked out Shelfari and GuruLib. I use WeRead in Facebook and noticed today that this app is having problems with Firefox 3. The appi folks are suggesting we try using a different browser – I'm hoping they sort this out quickly.
Not surprisingly, the group with the largest number of members is Librarians who LibraryThing (5446 members), more than twice as many than the next highest number group, Science Fiction Fans (2697 members).
I've suggested to several small non-profit organizations that they check out LibraryThing as a web-accessible catalogue for their constituents. I'm not sure if any of them have taken this direction, but it seems a useful solution for groups with limited funds. There's a list of libraries that use LibraryThing for Libraries for specific applications such as reviews and catologue enhancement. Libraries thinking about using LibraryThing for Libraries can find information about it here.
A really nifty function in LibraryThing is the Tag Mirror, which shows the tags that other LibraryThing users have applied to books in your collection in their own collections. Read the LibraryThing blog post "Tag Mirror: See your books the way others do" for more information.
Rollyo:
Rollyo is a site where users can create their own customized searches by creating Searchrolls comprising websites they visit and search over and over. I signed up and will be creating searchrolls for topics such as dog-related searches, art-related searches, and health research-related searches. These I'll create the next time I do these searches, along with any others I think I'll be repeating. One initial thought I have, before actually testing this, is whether I'll be able to create any useful Searchrolls for my work since so many of the sites I use are deep web sites with different search protocols.
Posted on December 7, 2008
Filed Under Family, SLA23Things, Web2.0 | 1 Comment
I've been using Bloglines for years to follow (when I find time) news feeds, primarily those in information science, health policy and personal/professional productivity. I also follow some boxer feeds and art feeds.

Checking out the Quick Pick Subscriptions, I see there are quite a few that I'm already subscribed to, and others that I'll check out another time (e.g., Birding News Feed, Art Knowledge News). The Boglines Top 1000 is interesting, especially the graph showing gains and declines in readership of each in the list. Jenny Levine's blog,  The Shifted Librarian, is in seventh place and holding steady.
I've checked out Google Reader, but don't like the look and feel much. Maybe it's a coziness thing – I'm comfortable where I am with Bloglines – but I think the Google interface just takes up too much real estate on the screen. Another SLA 23 Things participant had a good point about using Google Reader since she uses many of Google's other applications. For now, though, I'll stick with Bloglines.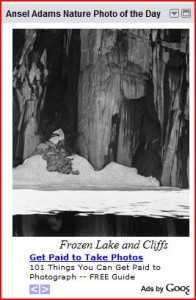 I poked around iGoogle and did some customizing:
Edited my Weather settings to set temperatures to display in Celsius.
Added a few gadgets: Ansel Adams Nature Photo of the Day, Gmail, Top Stories, How to of the Day (today's is "How to Stretch a Canvas"). [I need to figure out how to align photos in Wordpress.]
I personalized my MyYahoo account a bit more:
Added Edmonton to the Weather Forecast box so I have up-to-date when I talk to my mom and brothers. For fun, I also added St. Louis, which is where my sister and her family live.
Moved the "Note to Self" box to the top of the right column.
Added the Facebook and Flickr applications.
Deleted Scoreboard and Stock Portfolios (that's too depressing right now!).
Changed my page appearance, changing the theme to "The Color Purple" (yummy colour), but decided in the end I like Forest better. The trees at the top are wonderful in their fogginess and the dark green makes my Flickr photos pop.
Whether I actually use iGoogle and/or MyYahoo in the future remains to be seen.
While checking out Netvibes, I discovered my ancient account no longer exists;  I couldn't log in, at any rate. I created a new one, and although Netvibes knows I live in Canada, it wasn't smart enough to determine I  live on the west coast andwant Vancouver weather on my page. I do like the Flickr Most Interesting Photos box that is already on the page, though.
Another suggestion for Week 6 was to check out Pageflakes. I had a quick look at this and decided not to spend the time setting it up. Interesting and possibly useful, but I have only so much time to devote to personalizing my Internet experience. All of these tools do essentially the same thing, with minor variations. Best to figure out which ONE I like and work with it – if any at all.
Posted on November 17, 2008
Filed Under Uncategorized | Leave a Comment
Yesterday I ordered a new laptop. It arrives Monday or Tuesday and I'm both dreading and welcoming the switch over. Dreading, because I know it will take weeks to reload all my software. The obvious programmes will be loaded right away, but as I remember from last time, it wasn't until I went to use some of it that I noticed it wasn't there. Welcoming, because my current laptop is grinding to a halt and won't run some of my recently loaded applications. Welcoming, also, because I can't use this current machine for Second Life and my laptop is now my primary computer. I can enter Second Life with my desktop machine, but it's slow, very slow. This new laptop promises to revolutionize my online experience and I'm ready for the shake-up.
Second Life is one of those Web2.0 applications I'm eager to try out. There are lots of interesting things happening in SL – tours, author talks, online instruction and reference sessions with librarians, even dog dog parks and dog training sessions. I can buy a SL dog if I want (I found a boxer avatar with cropped ears at SLDogs, but think I'll see if I can find one with uncropped ears, since that's the look I like). I've had an avatar for a couple of years, but she's getting rusty from disuse.
I'm also looking forward to Week 7 on Wikis and collaborative portals. I have minimal experience with this type of online collaboration and should learn a lot during the 23 Things exercises.
As for using various Web2.0 tools in my work, I see blogs, RSS feeds, and Delicious as being most useful for now. I'll have to give a lot more thought to how the other tools would be applicable to what I do – primarily information-based research in the area of health services and health technology assessment.
Posted on November 13, 2008
Filed Under SLA23Things, Social Networking, Web2.0 | 4 Comments
Last weekend, I worked on SLA2Tthings with a friend using Skype. It was a fun way to explore flickr and delicious. We each brought our different expertise and questions, which enhanced the experience for both of us.
Since then, I've been exploring image sites further and learning more about mashups, of which I've had a general idea for a while. The 7 Cool "Mashup" Websites – What Are Mashup Websites? YouTube video was very helpful. Some mashups covered that look interesting:
I explored the mashup awards photo category, which has lots of really interesting and fun things to see. Probably my favourite is Multicolr Search Lab, which allows searches of creative commons photos by colour and colour combinations. Once a set is created, clicking on individual photo tiles takes you to Flickr to see the full size photo. Also very interesting is Tag Galaxy. Below is one of the tag galaxies I created using this utility, as well as a Flickr set created by Multicolr Search Lab.
I created a Flickr badge and have code to plug into my blog or website – now I just need to figure out how to add it to one of the side bars. I tried to make an e-card with delivr but it wasn't working at the time. I notice that someone else working on SLA23Things had the same experience.
I checked out other tools briefly – enough to know which ones I'll go back to and explore in depth:
programmableweb has a mashups directory to explore (as well as How-Tos, APIs and other resources) and warrants a return visit when I have a lot more time.
Posted on November 7, 2008
Filed Under SLA23Things, Social Networking | Leave a Comment
I've been using Flickr for some time – I'm not quite sure when I created my account and starting uploading photos. I have a Pro account because I wanted to create multiple sets and not be limited by maximum allowable uploads in any given month. I have both private and public sets. I figured most of my family wouldn't want their photos on the Internet, so I've protected those only. I've geotagged most of my photos.
Things I've done during this week's exercises:
Explored Flickr more fully – created several collections (The Dogs, Travel, Family, Lost Pets) in my account
Joined several Flickr groups (Rescued Boxers, Funny BoXers, That's my Boxer)
Added a photo to the group Photos of Fairchild at the invitation from the group administrator, joined the group and added a few more photos
Explored some of the photos from other Flickr members on my maps (created by my geotagged photos)
Blogged a photo from my Flickr photostream to Freckle & Ceilidh's Blog (a blog devoted to our boxer and pug)
Explored very briefly some of the other photo-sharing sites: Fotki, Photbucket, Picasa (using my Google ID), Share on Ovi, Smugmug, Shutterfly, Webshots
One of my favourite sites not mentioned in this week's SLA 23 Things is Earthshots, a photo site with amazing photos of the world we live in. I get an email from this site every morning and it's a great way to start my day on the computer.
Things I still plan to do, at a later date:
Figure out how to subscribe to my "recent comments" feed on Flickr.
Continue with the remainder of Week 4 tasks.
I have a much bigger project, barely started – retrospectively scanning of my slides and negatives, and old photos from family albums. This project will take years, I'm sure.
Posted on November 3, 2008
Filed Under SLA23Things, Social Networking, Web2.0 | Leave a Comment
I was glad to see the deadline for completing SLA's 23Things extended to December 15th. I've had a busy few months of back to back and overlapping projects. Now that I have a bit of breathing room, I'm picking 23Things up again.
delicious
I've had a delicious account for a while. I've made a start at organizing my many bookmarks into categories, though this is going slowly. I have yet to go through my uploaded bookmarks file, which I've left as private for the time-being, so I can go through and review them and check for broken links. All of this takes time, so in the mean time, I use the search function to find what I know, or at least think, is in the mishmash.
Some things I need to work on: amalgamate some tags (think "controlled vocabulary") I've applied on the run. Trying to sort out which to use – my cataloguer's idea of what I think they should be, or be consistent with what others are using. I started out using an underscore between two (or more) word tags, but have now opted for a one-word tag, capitalizing the first letter of each of the multiple words making up the individual tag. Checking out other people's tags while searching for one of my favourite subjects, boxers [dogs], I find their other tags include: dog, dogs, dog_breeds, boxer_dogs, dog-health, boxers, boxer.
I confess to not using delicious to its full advantage. Though I've been diligently adding new sites in addition to my uploaded FireFox bookmarks, I haven't used it very often as a discovery tool. I'll be doing that more often now, though.
One thing I've noticed: few people have added notes to their delicious bookmarks. I tend to add them (often an excerpt from the web resource itself) to provide  information additional to my tags. This provides context and scope and reminds me why I thought bookmarking the site was worthwhile in the first place.
One of the biggest disadvantages of tagging for me is confusing tags. Reflecting back on my search for "boxers," there is no way to distinguish the dog breed from the apparel, the athlete or the personal name. Not everyone adds the additional tag "dog" or "dogs" to disambiguate among the three meanings.." As well, some people use the singular form of a tag, while others use the plural form – and delicious doesn't collapse these into one search results set if you enter only one form of the tag. I was particularly pleased to note that delicious supports Boolean logic. I searched on "(boxer OR boxers) (dog OR dogs)" and was able to get a good selection of sites to check.
Technorati
I found the article by one of my AIIP (and SLA) colleagues, information guru Mary Ellen Bates, "Mining Technorati" to be especially informative, prompting me to explore this excellent blog search resource further. Her suggestion to use the authority search to find influential bloggers in specific fields is an excellent one and I'll be adding this to my arsenal of research steps.
Recapping, things I've done during this week's session:
Explored delicious more fully
Explored and joined Technoratihttp://www.technorati.com/ and registered meldinme
Joined Library 2.0 on Ning and introduced myself
Signed up for FriendFeed because several Twitter feeds I wanted to follow pointed me to the community on FriendFeed (IL2008, medlibs)
Things I'd still like to do, at a later date when I have more time:
Posted on October 23, 2008
Filed Under Dogs | Leave a Comment
This weekend Freckle and I will be competing in Rally Obedience, a new dog sport and fun obedience trial where handlers can talk to their dogs and where you can compete with mixed breed dogs or unregistered purebreds. It's the first trial that either of us will have done; at least, I assume it's Freckle's first – since she's a rescue, I'll never really know.
I admit, I'm a bit nervous – wondering if I'll remember the course, wondering if Freckle will be too distracted by the other dogs and competitors. Like most boxers I've known, she has a bit of ADHD in her – and it usually comes out when there are lots of things to distract her. A quick search on youtube and Google uncovered only one boxer, Bounce, doing Rally O. Hmmm … I wonder if there's a reason for this? Bounce is really good, very cute and apply named.
We'll be doing our first leg of three in Novice A. Novice A is the class for a handler (that's me) who hasn't taken a dog to a title yet. We need to be passed by three different judges in three separate trials to get Freckle's first title. Novice level is on-leash and tests the dog's understanding of basic commands. We have a full day seminar to learn the rules, ask questions, and get to know the course. I found a good video of a gorgeous Newfoundland dog doing the Novice A exercises. This  sheltie is prancing through his round.
Freckle and I have been working hard, trying to fine tune our "performance." That means Freckle has to REALLY pay attention when we're doing our heel work, as she has a habit of checking out the goings on around us. Sometimes she surges ahead a bit, not realizing I've come to a halt and that she's to sit smack down, quickly. Sometimes she's spot on, and sometimes she realizes too late that I've stopped. Then she scootches back into position, but that's a no-no in the ring. We'll be practising lots over the next week and I'm keeping my fingers crossed.
For a look at what NOT to do in the ring, check out Alvin, the sweetest looking young English bulldog, doing his Rally O round. He has a great sense of humour. I wouldn't put it past Freckle to do a round just like Alvin's!
Posted on September 1, 2008
Filed Under Dogs, Facilitating Online Communities (FOC08), Social Networking | 2 Comments
More on online communities – FOC08 Weeks 2 and 3 – interconnectedness / connectedness
I've been thinking lately about how real the online world is. Saturday night I went to a party and talked at length with one of my real world friends, Dean. It was fun because we keep up with each others' goings on primarily through Facebook and Twitter, and the occasional email, even though we live and work within the same few square miles of Vancouver. We both have busy lives, and if it weren't for our online connection, we'd be catching up once a year at the AGM of the Health Libraries Association of BC.
This had me thinking of other such connections in my online world:
The online world really is converging with my real world – something I'm very happy about – because I'm meeting all kinds of people that I wouldn't otherwise.
Posted on August 26, 2008
Filed Under Dogs, Facilitating Online Communities (FOC08), Social Networking | Leave a Comment
I've heard it said among some of my friends that an "online" community isn't really a community at all. This is usually said by friends who are resistant to using their computers for anything other than either for work or for personal research.
Our blog posts for the FOC08 course are to be reflective and personal rather than academic (which is my first instinct!) – a not completely comfortable undertaking on my part. As I think back over my years online and my involvement with various technologies – email, listserves, forums, and now social networking applications – and think about the friends and acquaintances I've made along the way, I realize, for me, that community does exist online. The "groups" aren't much different from my "real" life groups, except that I don't always know what my online friends and acquaintances look or sound like. We congregate as a group for many of the same reasons we do in "real" life: common interests, shared places of employment, geographic proximity, mutual support, information seeking, etc.
On the personal side, I've been involved with the Boxer Mailing List for the last 6  or 7 years. Over time, I've made friends with a number of people from this community and have been lucky enough to meet several in "real" life. Our community has been badly shaken by the suicide of one of our members and the early and unexpected deaths of several others. It has rallied to help a rescue worker pay expensive hospital bills after she was badly mauled by one of her rescue dogs (not a boxer, incidentally) – she didn't have health insurance because she couldn't afford it. We've rejoiced with members who have gotten married, given birth, graduated from school. We've cried together when we've lost a beloved companion. In short, we've interacted in much the same way as we would if we were living in the same neighbourhood, worked for the same company, volunteered in the same organizations, studied in the same schools.
On the professional side, I'm been a member of a number of associations and listserves to do with librarianship and the information world. In our online forums and listserves, we share both our professional and personal lives. Again, there is camaraderie and a willingness to help and be helped by others, just as there would be in the "real" world.
Some of these communities are more "friendly" than others; some are more active, while others have more lurkers than participators. Just as in "real" life, we participate online in diverse communities, interacting and sharing with others as we go about our daily business.
My sense of community is one in which we interact with and touch other people in an emotional or intellectual way – this regardless of the physical environment, geographically close or distant, online or face-to-face. I don't see my online connections as being all that different from far-away folks with whom I keep in touch by mail or phone. Keeping in touch online provides a different and additional means of connecting and building community. Being online expands my community in a seemingly boundless way, offering me a way to "be" with people I might otherwise never meet. I'll be reading other FOC08 participants' blog posting about online community over the next few months, seeing where we agree and differ – again, another commonality between online communities and "real life" ones.
Posted on August 7, 2008
Filed Under Friends | Leave a Comment
Today I'm starting two weeks of semi-vacation by heading out to south Surrey to visit several friends from Boxer Rescue Canada. It's been a while since I've seen either of them. Marta lives in northern Alberta and isn't in the area very often. She and I keep in touch by email, through BML (Boxer Mailing List) and Facebook. Lesa is always busy doing a great job with several rescue groups, fostering and helping find homes for creatures in need because they've been abandoned or abused. I can't say enough good things about these two people who give from the heart of their time and their homes.
We're going to have lunch together and probably go for a walk along the dikes in Surrey. I also get to meet one of Marta's boxers, Lobo, for the first time. I've been following his exploits at a distance and am really looking forward to seeing him in person (or should that be "in dog"?).
« go back
—
keep looking »